Our Sector
Oil & Gas
With the increase of global demand for energy and the economic situation constantly evolving, the oil & gas industry is facing new challenges and opportunities, for this reason it is always at the center of attention of the government and environmental organizations when they talk about environmental protection. At the same time, issues such as health, safety and quality become unavoidable. The IOV (Inspection Oilfield Verification) with its team of oil & gas professionals is able to carry out inspections in accordance with current European standards and in accordance with specific customer requirements, in order to reduce the risk of personal injury or property damage and to protect the environment, the most precious of our shared assets. IOV (Inspection Oilfield Verification) is now very active in the offshore market, where projects have grown constantly, and with them also safety and prevention culture.
Our Services
OFFSHORE CONTAINERS CERTIFICATION according to UNI EN ISO 10855-1:2018
Offshore containers are unique in the world of shipping containers and IOV IT-Servizi is one of the accredited competent authorities to inspect and approve them. The process comprises:
Design and material appraisal.
Inspections during the manufacturing of the container.
Release of the Certificate of Conformity.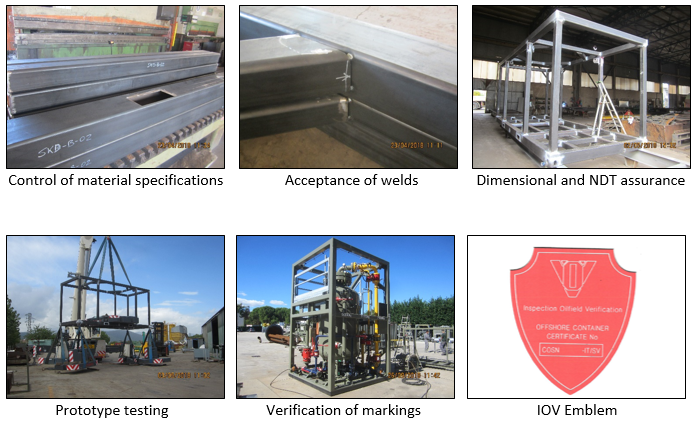 PERIODIC INSPECTION OF OFFSHORE CONTAINERS AND ASSOCIATED LIFTING SETS according to UNI EN ISO 10855-1,2,3:2018:
IOV IT-Servizi performs periodic inspection, examination and testing of Offshore Containers and associated slings, in order to certify the integrity of the equipment.

PRESSURE TEST INSPECTION
As an accredited third party body, IOV IT-Servizi assists hydrostatic tests of equipment (BOP, valves, pup joints, separators, heaters, etc.) according to customer requirements and specifications.

DRILL STEM INSPECTION according to Standard DS-1® Volume 3:
Assurance of the inspection and qualification of drill string equipment consisting of a single piece with no component pieces. For example: drill pipe, drill collars, subs and pup joints.

DRILL STEM INSPECTION according to Standard DS-1® Volume 4:
Assurance of the inspection of drilling specialty tools, which are defined as device that:
Can be run in a drill string or casing string and perform some function.
Is assembled from two or more components.
Is complete in itself with no additional equipment needed for its function except possibly some external power or pressure.